Stoves
To live outside for a long periods of time requires heat. Not to mention the security of being able to get warm, if a accident should happen.
There are different ways to get heat, one is to use an open fire or another way is to use a stove.

NORTENT has chosen to develop and manufacture its tents with the possibility of used with a stove. So called hottent

Today, NORTENT offers two stoves, a lightweight more packable mobile titanium stove and a robust stainless steel stove for more basecamping
Information
Why not have the possibility of an open fire in the tent as some other manufacturers have?
It is a relevant question, part of it is that smoke spreads in the tent if you use an open fire and in addition there are greater risks with an open fire than with use of a stove.
Stove in a tent, it does sound dangerous?
There are always risks with fire inside a tent, whether it is from a stove or a gas stove. However, high demands are placed on the tent being well adapted to be used together with a stove
What do you mean by well adapted to use the stove in a tent?
It is easy to throw on a chimney feed-through (stovejack) or take up a hole in the tent fabric for the chimney. But all tents and placements of the stovejack are NOT suitable for using a stove inside the tent. NORTENT tests the tents very carefully with regard to whether it is possible to use a stove and where the best location for the stove is. All with safety in mind. And some tents dont have enought room or design that fits requirements of being safe with use of a stove.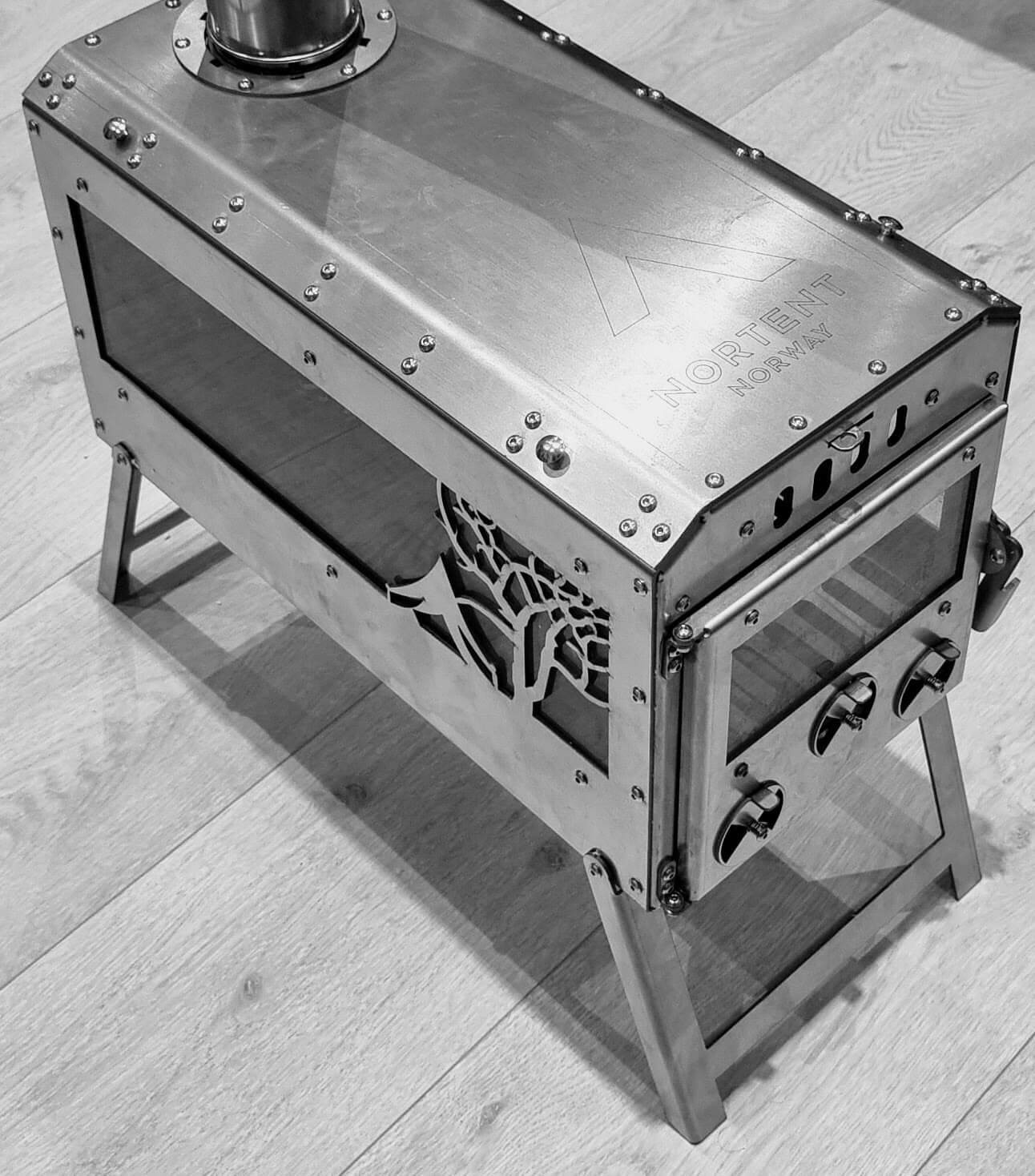 Stainless steel
NORTENT's stainless steel stove is perfect for those who want an efficient heat source in the "base camp". At a hefty 17 kilos (complete with all accessories) it's a hefty piece, but provides incredible warmth and comfort in larger tents where it's ideal for heating and cooking. With its large surface and side shelves, it provides many and well-adapted solutions for heating, cooking and boiling water. Although the stove is relatively heavy, NORTENT has made it small and compact when packed into its accompanying transport bag.
NORTENT's stainless steel stove is designed with NORTENT's own tents in mind. But it can easily be adapted to other tents that are made to use with a stove.
The advantage of a steel stove compared to a titanium stove is that it is larger and hotter with better distribution of the heat itself in the tent. The downside is that it is much heavier than the titanium stove, that you can carry in your backpack.
The stove is designed with three windows. One at the front and two large windows along the entire sides. Looking at the live flames adds to the mood and leaves you with a nice, peaceful and warm feeling in the tent.
Detaljer
Kommer komplett med alla tillbehör
Rejält tilltagen i materialet (lång hållbarhet)
Nested pipe
Passar det flesta kamintält 
Robust och snygg design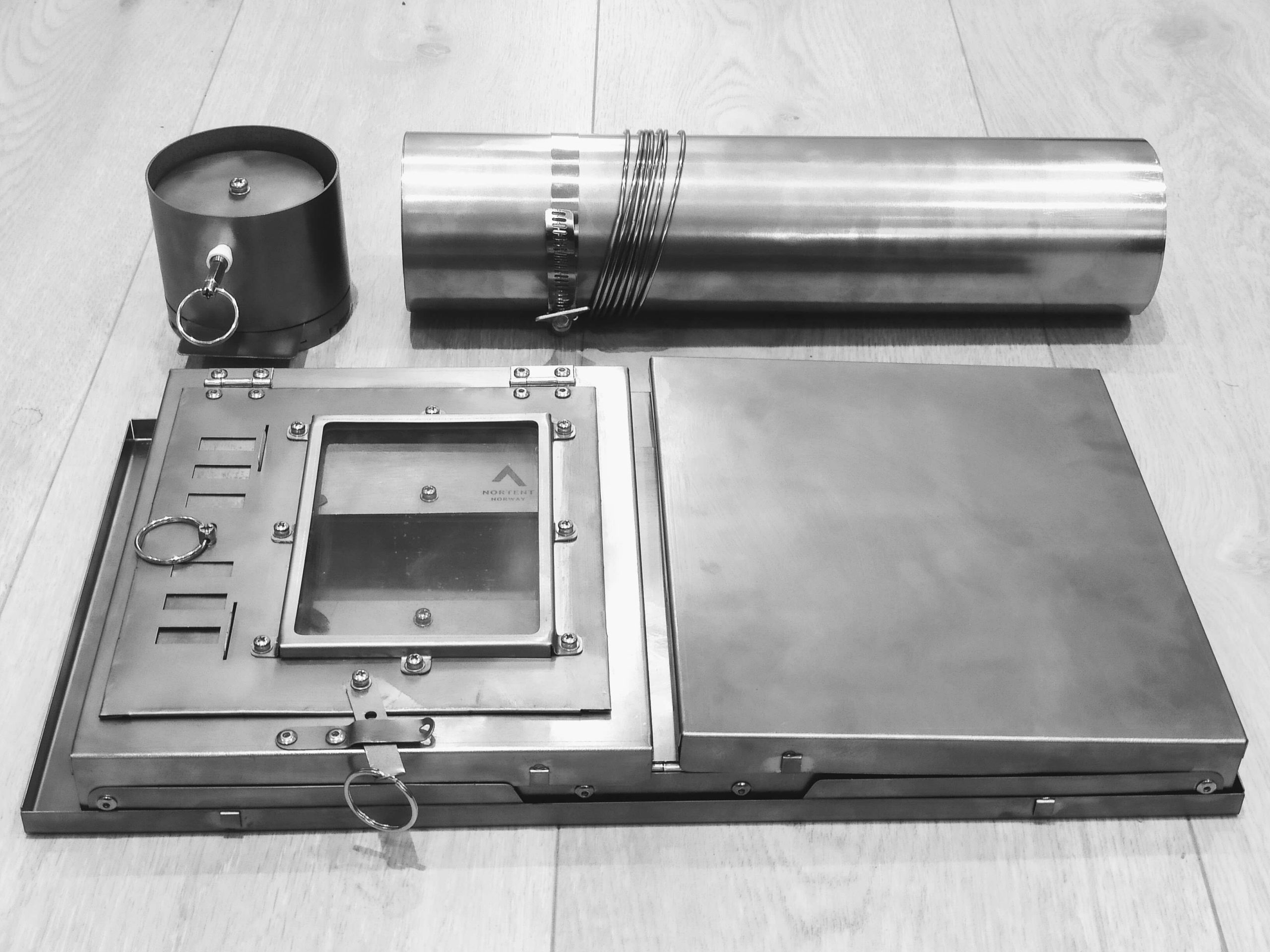 Titanium
Titanium is a perfect material for making stoves that are light but at the same time very robust and durable. But even if it is possible to make lighter stoves, it will be at the expense of something, e.g. durability, functionality or safety. An important consideration is the thickness of the material, this will affect things like durability, resistance to warping and robustness. Material that is too thin sacrifices something, thicker material increases the weight.
NORTENTS Titanium stove 
Windows at three sides

Displacement of the chimney (easier to use several pans at the same time)

Reinforcements in top and bottom against warping.
Easily packed down to flat package.
Double spark-arrestors (With additional top-hat)
Sideshelfs can be used as grill rister (Can be coverted into a grill)
Somewhat bigger dimensions (Bigger dimensions = Longer burntime, fits 39 cm pieces of wood)
Titanium Vs Steel
Titanium is non-toxic and has no impact on microoranisms
Steel is more powerful, but wears out faster
Titanium is non affected by extreme cold/heat
No rust / oxidation on titanium
45 % lighter than steel
Meltingpoint: Titanium 1668 °C, Stainless steel 1375 – 1530°C
Safety
Let's talk about SAFETY when it comes to using a stove in a tent. Why is it NOT appropriate to use a stove in all tents? The tent, the stove and its design must be manufactured so that dangerous situations do not arise. To name a few dangerous situations that have occurred when you have used a stove in your tent.
The chimney has bent / failed from the wind
Flysheet set on fire
Centerpole/poles has failed due to heat
Carbon monoxide build up in tent
Burn injuries to humans and equipment
Sleeping system caught fire
sotfire

The front hatch has opened during night

Stove failure
These are some things that have happened that we have seen and read about on the internet. All of this can be avoided if the tent and stove manufacturer is knowing and understanding these risks. It takes time, understanding and extensive field testing to be able to minimize these risks.
It is NOT by chance that NORTENT is one of the leading companies in the world in developing and manufacturing tents designed to be used together with stoves.  NORTENT test their tents up to 9 months in the field before releasing them on the market, to ensure safety.
ARE you unsure or if you want advice before you buy a stove to use in a tent. Feel free to contact us, and we will tell you more.
Videos

Store
Accessories - Titanium stove